Download it here: WPLC Inaugural Newsletter
Over our two plus years of existence we've been the recipients of a good deal of press, some of which we've posted on our Media Coverage page. In each instance it's been an opportunity to learn how others interpret the story of our work coordinating the mass legal defense for Water Protectors arrested at the NoDAPL Resistance at Standing Rock; and we've gained a lot from those perspectives.
Now we have begun publishing a newsletter to gather together the stories that we ourselves feel best convey the significance of our court record, that maintain a steady focus on the ongoing plight of our political prisoners, that feature WPLC's organizational accomplishments and leaders and make transparent our transition to our next iteration.
We are pleased to present our first issue published today. In it you will find our analysis of our court "stats" and why winning the Jessee appeal in the North Dakota Supreme Court was so important. You'll learn about WPLC's interest and commitment to connecting with and sharing strategies and legal approaches with others in this creative and forceful movement that we are determined to help foster and nurture.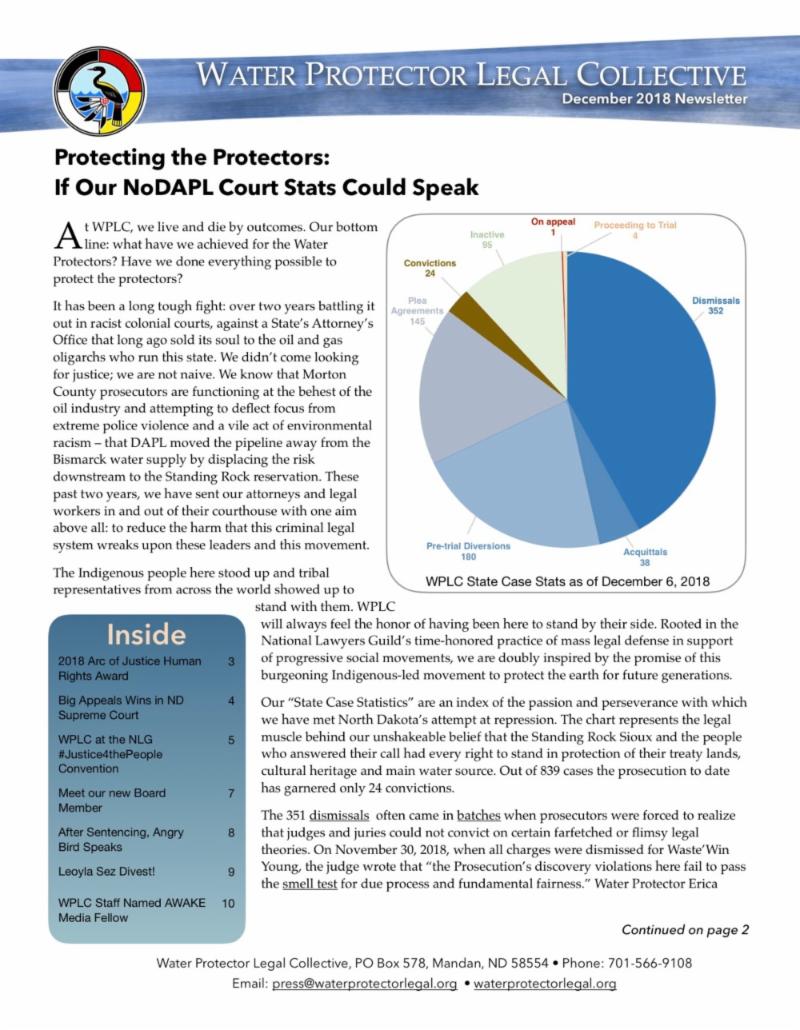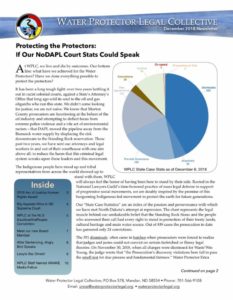 Download it here: WPLC Inaugural Newsletter
As Standing Rock made patently clear, Indigenous people have shouldered the burden of confronting the corporate purveyors of climate catastrophe. Tribes in the Americas disproportionately endure the indignities and impacts of the polluting and poisoning of water supplies as our whole planet becomes hotter, drier and more chaotic.
Water truly is life, and water is under assault from the extractive industries like never before—fracking, mining, pipelines under wetlands and rivers. WPLC intends to bring legal resources to the continuing Indigenous-led struggles who battle these foes of life. Our newsletter is meant to document our work in those struggles. For they are our struggles too.