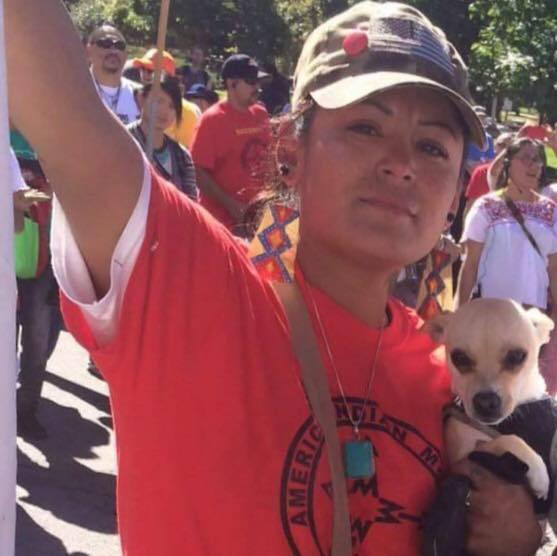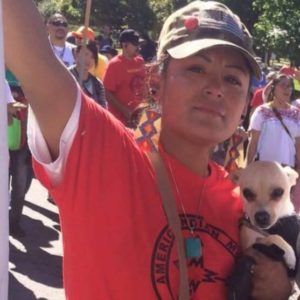 Red Fawn Fallis is Oglala Lakota
On July 11, 2018 Red Fawn was sentenced to 57 months pursuant to the terms of  a non-cooperating plea agreement accepted by the court  on January 22, 2018. In exchange for a guilty plea to the charge of Civil Disorder and Possession of a Firearm and Ammunition by a Convicted Felon, the charge of Discharge of a Firearm in Relation to a Felony Crime of Violence was dismissed. Had Fallis gone to trial and been convicted of this charge, she'd have faced a minimum of 10 years and risked up to life in prison. She was sentenced to 18 months on the Civil Disorder charge and to a concurrent term of 57 months on the Possession charge and is in  FCI Dublin, California.
To learn more about Red Fawn and how to support her, please visit her Support Committee website here.  To make a contribution directly to Red Fawn (funds that will be added to her commissary to cover costs of phone calls and other needs in prison), please do so here. The information you will need to accomplish this is: Red Fawn Fallis, Prisoner No.16358-059. (Please note they do collect personal information from you, and may even phone you to verify your remittance of funds.)
You can also make a financial contribution to the legal defense for Red Fawn and the other Water Protectors facing federal charges here.
---
Please write to her at:
Red Fawn Fallis
Prisoner No. 16358-059, Unit E
Federal Correctional Institution
5701 8th St.
Dublin, CA 94568
Case No. 1:17-CR-00016-DLH
Attorneys:
Molly Armour, Jessie Cook and Bruce Ellison
Federal Charges:
Civil Disorder
Possession of a Firearm and Ammunition by a Convicted Felon
Press Releases:
Red Fawn Fallis Reaches Non-Cooperating Plea Agreement (January 16, 2018)
Government Withholding Key Evidence in Standing Rock Federal Prosecution: Revolver Belonged to a Paid Government Informant (December 14, 2017)
Documents:
Defense Motion for Release from Custody (January 23, 2018)
Judge Hovland's Order re Motion to Compel (January 10, 2018)
Judge Hovland's Order re Motions in Limine (January 10, 2018)
Judge Hovland's Order Denying Motion to Continue Trial (January 2, 2018)
Defense Reply re Motion to Compel Discovery (December 29, 2017)
Defense Motion for Continuance of Trial (December 27, 2017)
Government Response to Motion to Compel Discovery (December 20, 2017)
Judge Hovland's Order Denying Motions to Suppress (December 22, 2017)
Defense Post-Hearing Memorandum in Support of Motion to Suppress (December 20, 2017)
Defense Motion to Compel Discovery (December 13, 2017)
Defense Motion to Suppress (October 23, 2017)
Defense Memorandum in Support of Motion to Suppress (October 23, 2017)
Judge Hovland's Order Granting Change of Venue (September 13, 2017)
Defense Reply in Support of Change of Venue (August 11, 2017)
Defense Memorandum in Support of a Change of Venue (June 16, 2017)
Media: