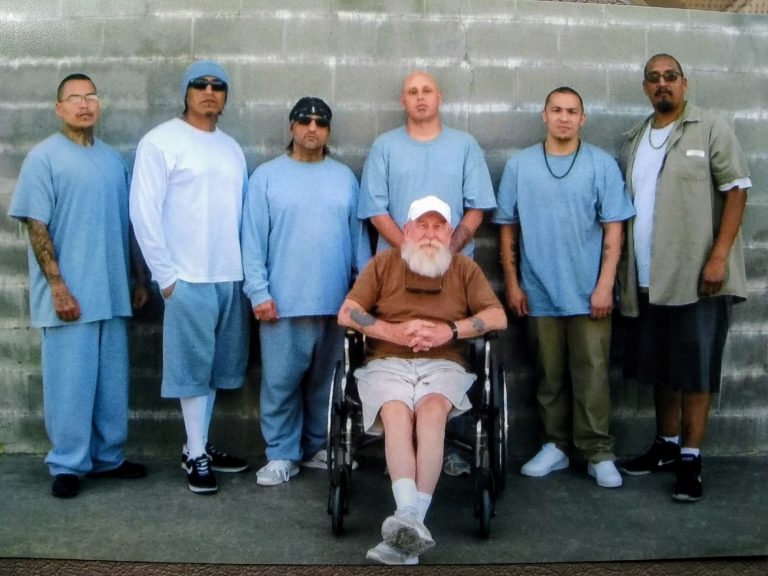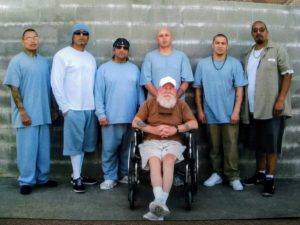 Little Feather (in dark bandana) with
United Freedom Front political prisoner Tom Manning (in wheelchair)
and other inmates in USP Hazelton.
Little Feather has accepted a non-cooperating plea agreement. On May 30, 2018, he was sentenced to a 36 month prison term.
In accordance with the terms of the agreement, the Use of Fire to Commit a Federal Felony Offense charge was dismissed and the judge accepted the joint recommendation of 36 months on the Civil Disorder charge.
Little Feather was incarcerated on March 9, 2017 and received credit for the time he already served. Little Feather was released from USP Hazelton, WV on July 15, 2019. He is in a North Dakota halfway house.
To learn more about Little Feather and how to support him, please visit his Support Committee website here.  Supporters can make a financial contribution directly to Little Feather's Paypal here.
You can also make a financial contribution to the legal defense for Little Feather and the other Water Protectors facing federal charges here.
---
Please write to him at:
Michael "Little Feather" Giron
PO Box 578
Mandan, ND 58554
Case No: 1:17-CR-00031-DLH
Attorneys:
Peter Schoenburg and Timothy R. Lohraff
Federal Charge:
Civil Disorder
Press Releases:
Little Feather Sentenced to 36 Months (May 30, 2018)
Little Feather Reaches Non-Cooperating Plea Agreement (February 4, 2018)
Documents:
Defense Objection to Order re Motion to Search and Disclose Evidence (January 25, 2018)
Judge Miller Order re Motion to Search and Disclose Evidence (January 11, 2018)
Judge Miller Order re Motion to Compel Discovery (December 18, 2017)
Defense Motion to Search and Disclose Evidence (November 27, 2017)
Judge Hovland Order Denying Change of Venue (November 3, 2017)
Exhibit A to Memorandum in Support of Change of Venue (October 12, 2017)
Defense Memorandum in Support of Change of Venue (October 11, 2017)
Defense Motion for a Change of Venue (October 11, 2017)
Defense Memorandum in Support of Motion to Compel Discovery (September 6, 2017)
Defense Motion to Compel Discovery (September 6, 2017)