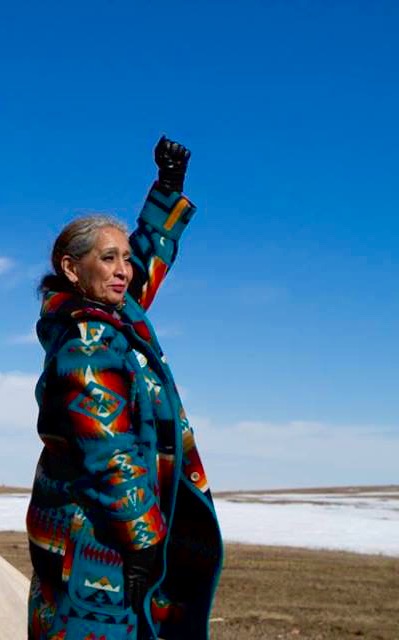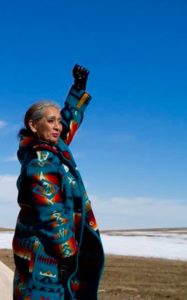 For Immediate Release
MEDIA ADVISORY FROM WATER PROTECTOR LEGAL COLLECTIVE
August 16, 2018
For More Information or to Arrange Post-Trial Interviews, Please Contact:Frances Madeson, Communications Coordinator
Cell: 412-616-0109
Email: francesmadeson@protonmail.com
LADONNA BRAVE BULL ALLARD TO TESTIFY FOR FIRST TIME AT STANDING ROCK BENCH TRIAL,
JUDGE GRINSTEINER PRESIDING
Out-of-State Defendant Returns to Face Charges—Engaging in a Riot and Criminal Trespass
MANDAN, ND—On Friday, August 17 at 8:30 a.m. at the Morton County Courthouse, WPLC volunteer defense attorney Pat Handlin will defend a young Indigenous Water Protector, one of 74 people arrested by riot-gear-clad law enforcement officers at the February 1, 2017 raid on Last Child Camp. Her client, who has returned to North Dakota from out of state to stand trial, faces misdemeanor trespass and riot charges.
It is the first time that LaDonna Allard will testify for the defense on behalf of a Standing Rock defendant.
This is the first "Last Child Camp" trial to be prosecuted before District Judge John W. Grinsteiner. In the past five trials with similar fact patterns, there have been three convictions and two acquittals. The outcome of Friday's trial could impact the planned upcoming trials of another four defendants facing similar charges.
What: Trial of Standing Rock Water Protector
Who: LaDonna Brave Bull Allard will offer testify on both charges
When: Friday, August 17, 8:30 a.m.
Where: Morton County Courthouse, 210 2nd Ave NW, Mandan, ND 58554
###
Water Protector Legal Collective (WPLC) is the on-the-ground legal team for the Dakota Access Pipeline resistance at Standing Rock. We continue to maintain a presence in North Dakota and provide legal advocacy, jail and court support, criminal defense, and civil and human rights protection to the Native peoples and their allies who gathered at the ceremonial resistance camps. Learn more at https://waterprotectorlegal.org/.