Arrested rather than abandon a Lakota elder making a treaty stand on camp's final day, a principled Water Protector accepts her sentence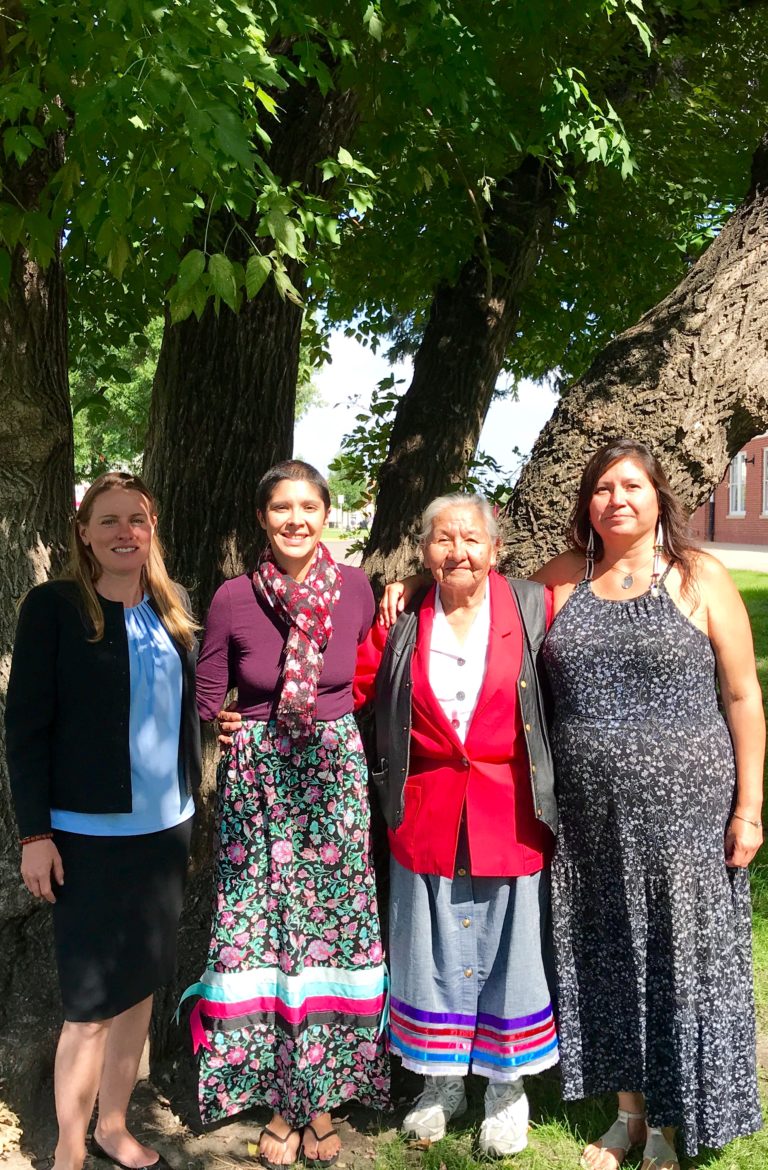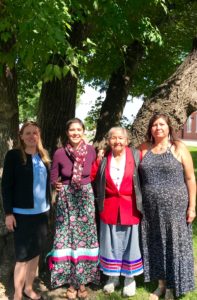 Photo: WPLC Attorney Andrea Carter and Water Protectors Aubree Peckham,
Regina Brave and Leta Killer-Bailey after the bench trial in Mandan, ND.
North Dakota Supreme Court District Judge Thomas J. Schneider dismissed Class A misdemeanor charges of Preventing Arrest or Other Government Function, but convicted on Physical Obstruction of a Government Function yesterday in Morton County. Water Protector Aubree Peckham, whose livelihood as a nanny is dependent upon a clean arrest record, received a deferred sentence of 90 days, court fines and unsupervised probation. If there are no further arrests during this period the record of this conviction will be expunged.
Peckham was represented by WPLC attorney Andrea Carter, who cross-examined the state's two law enforcement witnesses, reviewing with them video evidence that proved her client had not prevented her own arrest. She called three defense witnesses to the stand: Sacred Stone Camp founder and former Standing Rock tribal historian LaDonna Brave Bull Allard testified about Peckham's role at camp as a caretaker of elders and children; and Water Protector Leta Killer-Bailey, Oglala Lakhota* (Pine Ridge) testified that Peckham was a teacher in the Sacred Stone camp school who worked with youth in the community. Both characterized her as caring and respectful. Peckham, herself, said from the stand that she had not wished to be arrested, but that in accordance with Lakhota values of respect and honor inculcated in her early days at camp, she could not leave 75-year-old Regina Brave to face arrest alone.
"Over all we felt it was a victory," explained Carter. "Even though we didn't get an acquittal on both charges, the sentence on the Physical Obstruction charge was about as lenient as one can get. It shows how the judge felt about Aubree's character, her sincerity and the good faith of her actions. And at the same time, it also showed we still have so much work to do. The finding is that mere presence and disobedience of orders even when someone's intent is not to break the law can still result in a conviction; the state is still criminalizing dissent, and particularly dissent of Indigenous people standing up to honor the treaties, and honor the land."
Though she often attends the trials of Water Protectors in support and solidarity, this was the first Standing Rock trial at which LaDonna Allard offered sworn testimony.
"Aubree came to help with good intentions," Allard said after the trial. "She's a woman who if we had a natural disaster would run right over. So of course we would come to court and do our best for her."
Though it was difficult for her to watch the video evidence of the officer throwing her to the ground during the mass arrest, Peckham has no regrets about staying at camp with Grandma Regina and risking arrest.
"I wanted to ensure that Regina wasn't mistreated," she said. "That was the most important thing. I love and respect her. She stood at the second Wounded Knee; she can recite the Fort Laramie treaty, while cooking!"
Peckham says that after her release last year she was jumpy, untrusting and very nervous around any armed official.
"It made me fear police in a way that I really haven't had to face," she said. "I became depressed, sometimes paranoid. I felt weak, vulnerable and defenseless even though I had great support. Nothing can prepare you for that, the throw down…I didn't expect it to be so aggressive."
Brave, who is Oglala Lakhota, drove five hours to be in the courtroom in support of Peckham. Though she wasn't called to testify, Brave remembered their first important encounter one day when she was making fry bread outside and Peckham stopped by.
"I sang her a song called 'This one's for the people.' She took the time to sit down and visit and I really appreciated it—it's part of our tradition, a way of life to do that for our elders," Brave said.
She's thought a lot about Peckham's actions that day at camp, about her commitment.
"To see Aubree standing up—it's like the biggest test of your life, and you wonder if you are going to survive this, and then you do," Brave said, speaking from experience as a longtime activist for Native liberation. Bracketing the lawfulness of the arrests or issues of jurisdiction, she thinks the arrests at Standing Rock happened for a reason: "The Water Protectors had to go through it to recognize the courage within themselves. Now Aubree is the hope for the future. She can lead the children with compassion, be an example. Young people will learn from her."
Peckham says she's grateful to have seen her case through to the end, and especially that she did not waver on her plea of not guilty. She hopes to help build a future where people, especially young people, are not afraid to exercise their constitutional rights.
"I hope that people will really understand what it means to be an ally, and to stand up for what you believe without fear of persecution," she said. "And I also hope that you won't be harmed by our government."
*Non-standard spelling of Lakota requested by Grandma Regina.