"Flawed ruling that ignores the total lack of evidence presented by the State" says Freshet Collective defense attorney about yesterday's North Dakota Supreme Court Opinion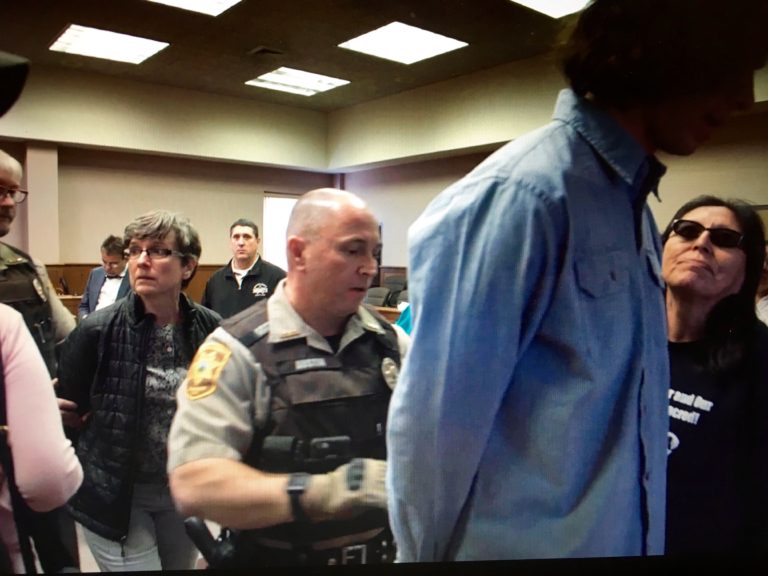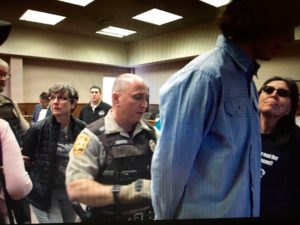 Photo courtesy of Jonathan Klett: Mary Redway and Alex Simon being led away in handcuffs to serve jail sentences for First Amendment activity last year. Judge Thomas E. Merrick chastised the out-of-state Water Protectors telling them—"You don't even have a dog in the fight."
Five judges serving on the appeal panel for the North Dakota Supreme Court upheld convictions for Water Protectors Mary Redway and Alex Simon who were among 150 Water Protectors taken into custody in a mass arrest on October 22, 2016. Redway and Simon, who were arrested while walking in an open field, appealed their convictions arguing that there was insufficient evidence to support the disorderly conduct convictions and that their alleged activity was constitutionally protected and should have been excluded from evidence. Simon also argued the evidence was insufficient to support his conviction for physical obstruction of a government function. The Supreme Court upheld the convictions of Redway and Simon in which the only evidence against either was that they were photographed at a protest. No individualized actions of either were described by any live witness. This is an ominous ruling for anyone who wishes to gather and express frustration with government or corporate action.
Sam Saylor, the Freshet Collective volunteer attorney who argued the appeal, strongly disagrees with yesterday's Court Opinion, and provided this statement:
"I think it misunderstands First Amendment law and substantive criminal law. A few absurd results can be derived from the holding. The Court appears to say that police officers can interrupt a First Amendment assembly and protest even on privately held land (when the protestors have permission to the be there) when the First Amendment activity is annoying no one but the officers themselves. Moreover, the source of the annoyance can be as basic as disobeying an order to stop protesting. What this means in practice is that if an officer gives an order to a First Amendment protestor, and the protestor declines the order, the officer can arrest the person and the person is guilty of disorderly conduct because declining to follow that order (even if the order is incorrect or without basis) is annoying to the officer. Police should never be authorized to instruct a protest on private land to turn around and go back to the highway, when no criminal activity has occurred and they only have vague fears of potential problems in the future. This opinion condones exactly that officer behavior."
In the court's 10-page August 28, 2018 Opinion, Justice Tufte wrote:
"At trial, the State introduced into evidence a photograph of Simon and other protesters with arms linked when law enforcement officers were arresting individuals grouped together at the third skirmish line. There were no similar photographs of any of the other defendants in this case engaged in this activity."
Saylor says that the Court is criminalizing Alex's linking of arms, even though there is no evidence where, when, and for how long his arms were linked with others. He wrote:
"Linking of arms is clearly expressive conduct, used to communicate solidarity and unity. Individuals have linked arms in assemblies as varied as the civil rights marches, gay rights marches, all the way up through the 2017 inauguration day protests and the March for our Lives gun control marches. What's more, there was no testimony about Alex linking his arms, though there were two photos showing him linking arms. The Court appears to sanction the convictions of people at protest gatherings who are merely photographed linking arms."
Redway and Simon have been the only Water Protectors jailed for First Amendment activity in the state cases emanating from NoDAPL resistance at Standing Rock. Upon hearing of yesterday's Opinion, Simon said:
"It saddens me to know that our case can be used to incriminate people who are exercising their right to peaceably assemble. We did nothing wrong." 
Mary Redway is concerned that the Court's Opinion can have a chilling effect on people choosing to exercise their right to protest.
"I am also concerned about being part of the legal narrative," she said, "that this case can serve as a precedent in future First Amendment rights cases as well as legislation."