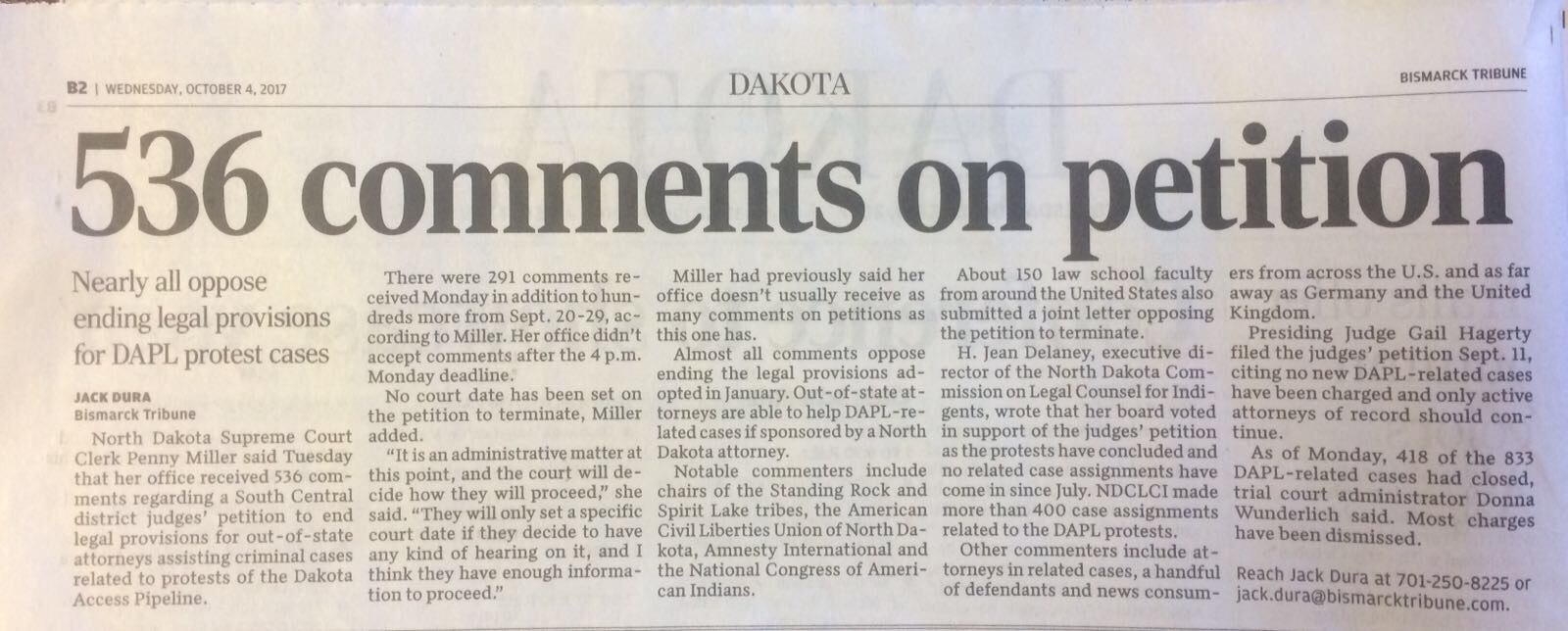 From coast to coast and across the world, comments have streamed into the North Dakota Supreme Court Clerk's Office, almost all opposing a judges' petition to end legal provisions for out-of-state attorneys assisting cases related to the Dakota Access Pipeline protests.
Supreme Court Clerk Penny Miller said her office had received 244 comments by Monday morning, hours before the comment period closed. Almost all of them oppose the petition by South Central District judges. Many wrote from states around the Union and as far away as Germany and the United Kingdom.
In their comments, most petition opponents referenced the needs of defendants lacking counsel, the benefits of services, such as those provided by the Water Protector Legal Collective, and constitutional rights, including the Fifth, Sixth and Fourteenth amendments. Many also asked to leave the relaxed pro hac vice rules in place until the DAPL cases are resolved.
Notable commenters include representatives of the Standing Rock and Spirit Lake tribes and the National Congress of American Indians.
"The significant number of qualified attorneys from other jurisdictions who have assisted with defense representation have filled an unmet need while minimizing indigent defense costs to North Dakota taxpayers," Standing Rock Tribal Chairman Dave Archambault II wrote.
"To discontinue the special provisions at this juncture would do a great disservice to justice as it would undoubtedly result in disruption of legal representation in active cases and higher rates of unrepresented individuals," Spirit Lake Tribal Chairwoman Myra Pearson wrote.
"NCAI believes the provision is crucial and was created to protect the constitutional rights of criminal defendants, to supplement capacity of the local bar in addressing this overwhelming need and to save state taxpayer money," wrote NCAI president Brian Cladoosby.
Other commenters include attorneys, news consumers and a handful of defendants aided by the provisions adopted in January.
"My charges have now been dismissed, but I do not believe that this would have been the case had I stayed with my court-appointed counsel," wrote Katriona Auerbach, who was arrested in October 2016. "Fortunately, I was able to attain an unbiased, out-of-state lawyer to defend me, and I couldn't be more grateful for this."
Miller said "we do not usually receive that many comments" as this petition had from Sept. 20-29.
About 830 criminal cases were filed in connection to the DAPL protests. More than 400 have closed, most of them with dismissed charges.
Out-of-state attorneys have been able to assist DAPL-related cases while sponsored by a North Dakota attorney.
Full story here.